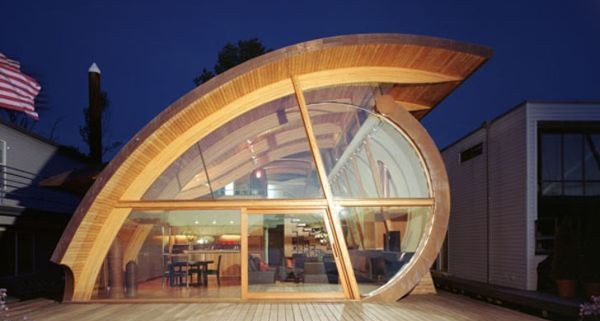 When you're dreaming of the house you'll build one day, what do you see? A plot of land with a modest house placed perfectly on the lot, or something extravagant and different?
Architects and homebuilders around the world are letting their creativity shape their designs. Whether they are taking advantage of the location, getting the most out of a small space, reinventing an old concept, or just being creative for the sake of being creative, there are a lot of neat home designs around the world.
Home built into a hill
The builders of this home designed the home to blend perfectly into the landscape. The curved roof mimics the shape of the hill, while expansive windows provide a lot of natural light. The large home is over 6,000 square feet and features an outdoor pool and large driveway.
Narrow home in Poland
The world's narrowest house is located between two large industrial buildings in Poland. The home features a kitchen, dining room, bathroom/shower room and a bedroom. It is designed to be used as temporary housing for travelling writers and the like, as there is only enough room for one in the space.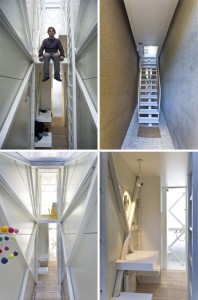 Retired plane converted into home
A 1965 Boeing plane has been converted into a luxurious hotel located in the Costa Rican jungle. The private suite offers two bedrooms and a hardwood deck built into the former wing. Guests have the option of relaxing indoors with modern amenities such as a flat screen TV and kitchenette, or enjoying the ocean and jungle views outdoors.
Upside down house
This home in Poland was intentionally built upside-down, leaving the inside completely functional. The house was originally created as a piece of artwork, representing the end of an era in Poland. Visitors walk around on the ceiling of the home, and inside is furnished as it would have been mid-century. See more details about the upside-down house in Poland, but it's not the only upside-down house in the world!
Check out our collection of unique homes on our Pinterest Board and don't forget to follow us to see all of our pins!
https://www.homeshowtime.com/wp-content/uploads/2015/01/Unique-Homes.jpg
449
600
Joni Sommer
http://www.homeshowtime.com/wp-content/uploads/2015/01/logo-evergreen-header.png
Joni Sommer
2015-02-03 00:00:47
2015-02-03 13:22:05
Unique Home Design