There are a multitude of options available on the market for window coverings for your home, and choosing the right type for your home is important. The window coverings you choose for your home can either make or break the look of the room. While it is important to consider the room's purpose and the window's purpose, you also need to consider how much privacy you require from your window, and the decor in the room. 
Consider the Level of Privacy Required
While some windows give you a fantastic view, others give you a great look at your neighbour's house or the street. In these cases, or in bedrooms or bathrooms, you require a certain level of privacy. Therefore, it's very important to consider what level of privacy you need your window coverings to provide in your room. Privacy linings are an easy way to do this, because you can add them behind many window coverings. Another benefit of lining your drapes is that they can keep heat in and cold out in the winter, if you get a thermal liner.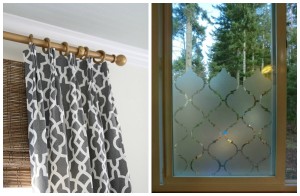 Another option is to add window film directly onto the surface of the glass, blocking a clear view through the window yet allowing maximum light in. This is a great option for renters or those who don't want to commit to something permanently. There is also a wide variety of ideas for patterns to make it a bit of a statement.
Consider the Room's Decor
Once you have analyzed what you want the window coverings to achieve and narrowed down your type of window covering, you must consider the decor of the room. You spend time picking out the paint colours, light fixtures, and furniture, so why not pick window coverings to compliment your decor? If you have a formal, traditional dining room, an elaborate drape and valance may be the best choice to suit the look and feel of the room. Or, give a room with a muted colour palette a glamorous make-over with metallic accents.
There is a wide range of choices when it comes to window treatments. Go bold with patterns and texture, or muted with calm colours and fabrics. Use your window treatments as a way to enhance the look and feel of the room, rather than getting lost as an afterthought. Be sure to check out all the ideas we're collecting on our Pinterest Board!
https://www.homeshowtime.com/wp-content/uploads/2015/07/Window-Covering-Quad-2.jpg
2000
2000
Joni Sommer
http://www.homeshowtime.com/wp-content/uploads/2015/01/logo-evergreen-header.png
Joni Sommer
2015-08-04 11:00:17
2015-11-19 15:53:34
Matching your Window Coverings to Decor