Whether you're moving into a new home or are simply redecorating, choosing the right window coverings are important. There are so many options on the market, and the window coverings can either make or break the look of the room. Lost in the options? Here are some tips to help you decide which window coverings are right for your space.
Consider the Room's Purpose
What is the main purpose of your room? This will help you with other decisions along the way, so it's important to decide this first. Is it a space that requires full darkness when it's light outside, like a baby's room or a media room? Or does the space need all the natural light it can get? Bathrooms and bedrooms may require natural light, but will also need some level of privacy, depending on where the room is located.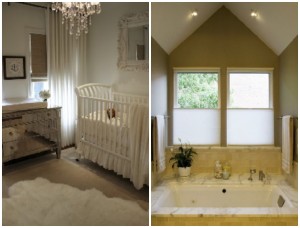 Unless all the windows are visible throughout the house, the window coverings do not have to match throughout the home. Choosing based on function allows you to use blackout shades in a baby's room to ensure complete darkness during daytime naps, and light filtering shades in a bathroom that block people from seeing in, yet let the light in.
Consider the Window's Purpose
Once you've narrowed down your choices based on the room's purpose, consider the purpose of the window. Does the window look out to the beautiful landscape outside, or is it more for letting light in yet has a view of the neighbour's house? Will you be opening and closing the window often to let a breeze in? Window coverings can help to enhance the purpose of the window, while blocking the not-so-nice parts of it.
Windows with a view deserve to be showcased, so choose window coverings that won't take away from the landscape. French doors are unique in that they're a door with a window encased in it, so treat them as windows inside a frame, rather than one large window space.
Along with these considerations, you should also consider how much privacy you need your window treatments to provide, and how they fit in with your decor. Check back next week for these tips and examples of how to make them work in your home!
https://www.homeshowtime.com/wp-content/uploads/2015/07/Window-Covering-Quad-1.jpg
2000
2000
Joni Sommer
http://www.homeshowtime.com/wp-content/uploads/2015/01/logo-evergreen-header.png
Joni Sommer
2015-07-29 11:00:22
2015-11-19 15:53:22
How to Choose the Right Window Coverings